Sergej E. Volkov Сергей Евгеньевич Волков
* 1956 in Kazan, Russia (former USSR)
lives and works in Moscow, Russia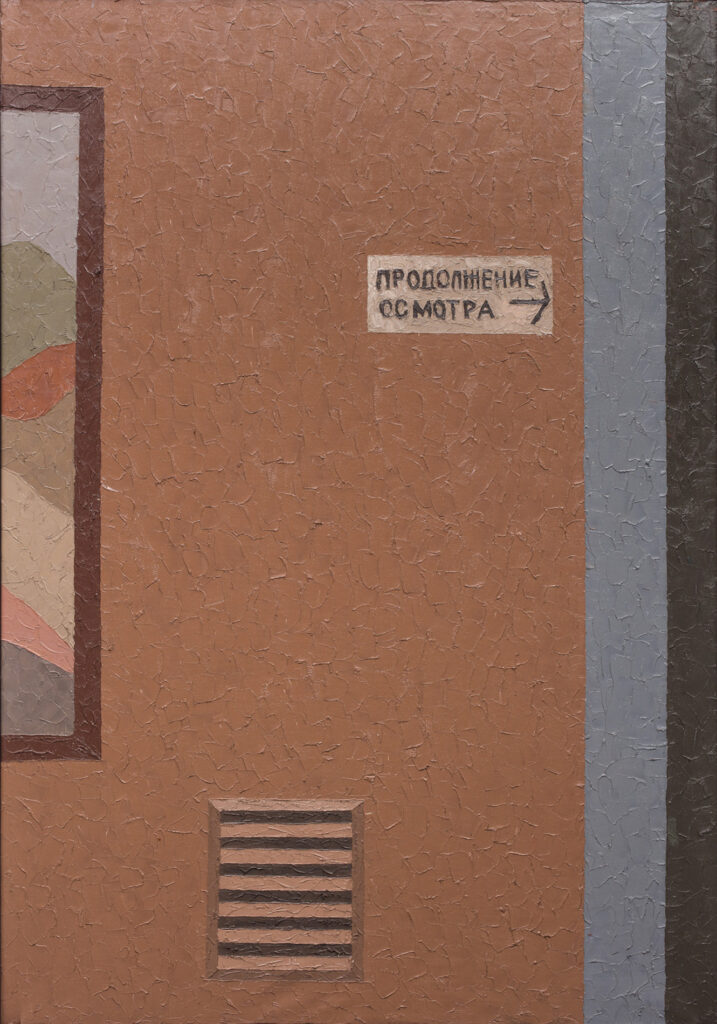 Sergey E. Volkov's work shows the viewer a section of an exhibition space. The artist's focus is on an almost empty wall surface that shows a cut painting on the left edge of the picture, while on the right edge of the picture two vertically rising beams can be seen that suggest a lintel and passageway into another exhibition space. Only two elements are clearly visible: a ventilation shaft and a sign with the inscription Продолжение осмотра in the upper third of the picture, pointing with a Black arrow in the direction of the passage. Volkov worked here with granular elements that he mixed with the paint, as a result of which the material applied with palette knives coalesces into a flat and impasto application of paint. The largely absent illusionistic Perspective also shatters any association of a trompe-l'œil.
Volkov frequently makes use of a symbolism of signs that structures our everyday life as a system of reference and is thus deeply anchored in our collective consciousness. Through the use of Cyrillic script in the image, the content of what is depicted quickly deciphers itself for all those who can read Russian. For all others, it appears as a moment of irritation that signifies the limits of one's own language and perception. In the case of Продолжение осмотра, the artist uses an inscribed sign, whereby viewers – especially if they should not be able to read Russian – are irritated and subsequently try to decipher not only the motif, but also the writing. Volkov thus allows verbal and visual codes to collide, which are as much mutually dependent as they are deconstructive, creating a paradox that in its consequence leads to an empty sign.
Volkov alludes with this usage to semiotics, which as a theory deals with sign systems of all kinds. In doing so, he plays signifier and signified off against each other: In this context, the signifier is the pictorial object that expresses something signifying, that is, the inscribed sign. Only the signified, as that which is signified, gives us information about the content, namely the continuation of the viewing. The sign thus only results from the interaction of signifier and signified and thus becomes comprehensible to viewers. Volkov additionally enhances this circumstance through the chosen image detail. By playing with signifier and signified and their dissolution in the painting, he consciously questions contemporary sign systems and the readings of our individual environment.