Morgaine Schäfer
* 1989 in Wolfsburg, Germany
lives and works in Dusseldorf, Germany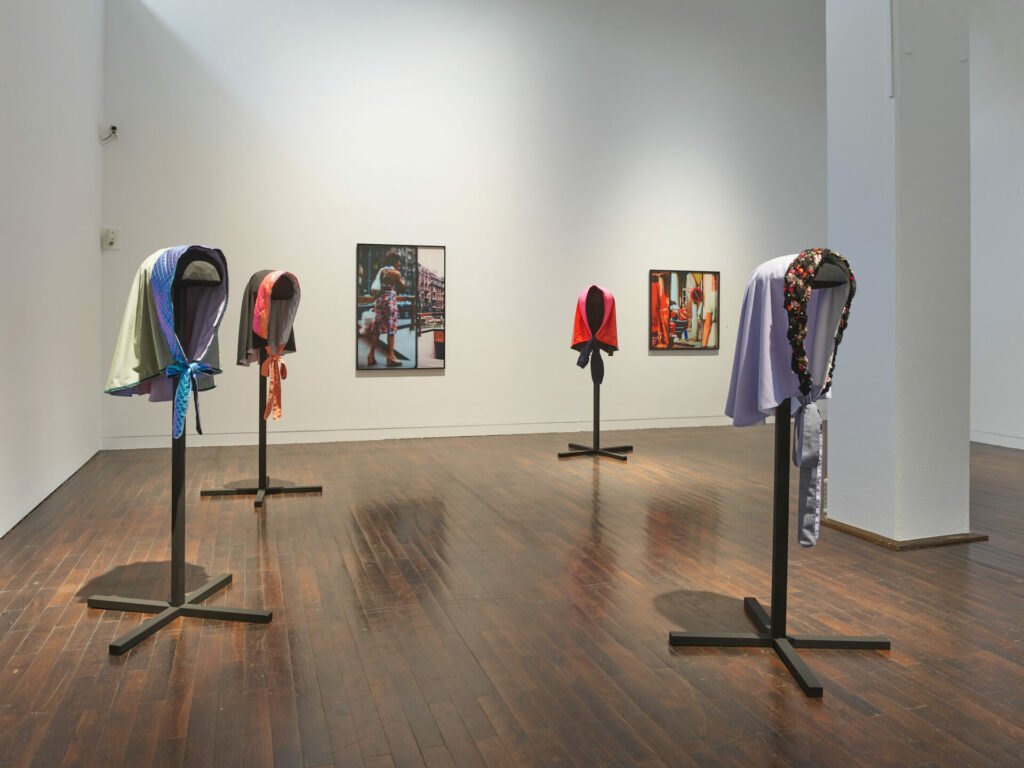 The use of archival material is an essential part of Morgaine Schäfer's working method. The photographic archive she works with is special, however, as it consists of photographs of her family taken by her father in the 1970s and 1980s. Through Categorization and continual editing, she brings out particular nuances that give her photographic works a simultaneously distanced and very personal reference. At the Ludwig Forum Aachen, she presents two works from the magnify BWS series, which take a slightly voyeuristic look at the photographer's subject in urban space. The protagonist of the photographs is the artist's mother, captured from a noticeable distance by her father. Schäfer's process transforms the familial photographs into an anthropological case study in which the artist analyzes and categorizes the behavior of the subjects depicted, their surroundings, and their relationship to the observer.
Also new are the fabric hoods Schäfer has created, five of which are placed around the room. Again, her family history serves as material for her work. The colorful hoods find their inspiration in the life of her great-grand aunt, who entered the Henriettenstift in Hanover as a deaconess when she was young. The shape of the works derives from the headdresses worn there. The fascination with the life story of the great-grand aunt was accompanied by the question of why she chose this path in the middle of the 20th century. The pen enabled young women to bypass social pressures and escape fate as a person from a lowly milieu. Here, the great-grand aunt was able to learn a profession and contribute to society. These achievements, accomplished without much pay and which enabled the great-grand aunt's independence, gave her great recognition in the eyes of the artist. A recognition that, according to Schäfer, was also reflected in the traditional costume of blue dress, apron and hood, which gave these young women a secure standing in society. The hood made them equal to married women and allowed them to lead a self-determined life.
Schäfer's hoods thus become a tribute to her great-grand aunt and her deaconess friends, whose strength and diversity are reflected in the different designs and fabrics. In doing so, Schäfer plays with the materiality in which she elicits the class of the wearers: satin for the bourgeoisie, latex in connection with prostitution, and much more. The milieu of origin of the wearer of the hood, however, became void the moment the hood was put on and all were granted the same rights of a full-fledged woman (i. e. in the understanding of the time, a married woman).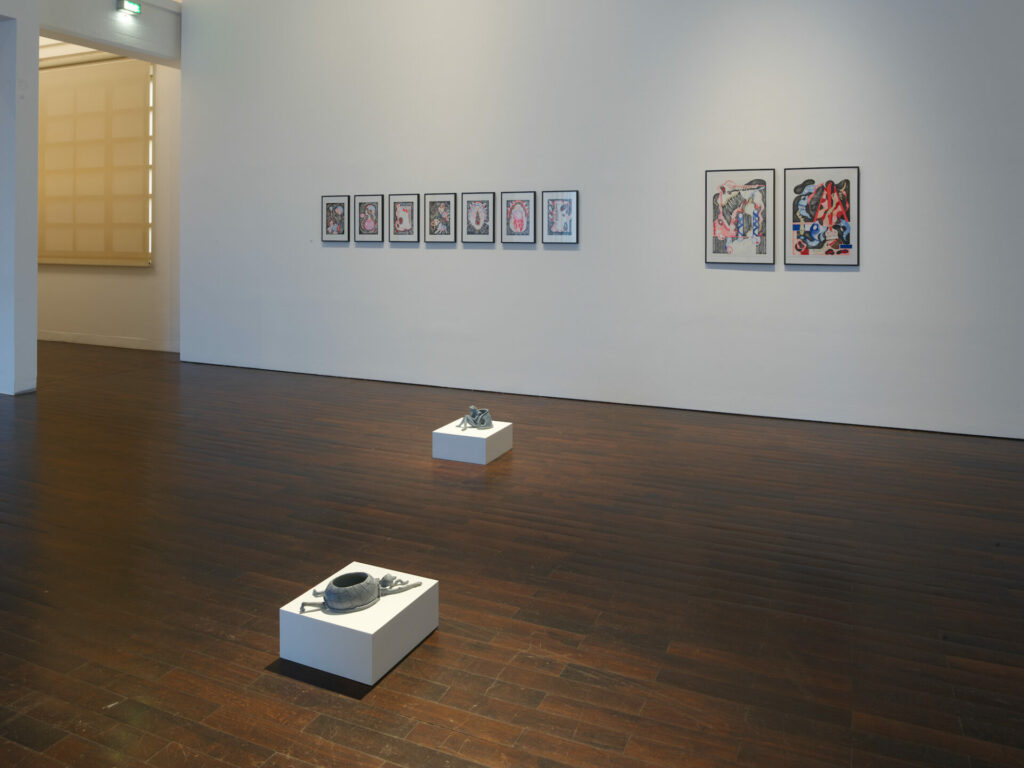 Siggi Sekira
April's News / Nine Little Murmurs, 2019 // Away from Countless Blessings-Series, 2020–2021 // Not a Soul in My Shelter, 2019 // Not a Soul in My Shelter Pt. 2, 2020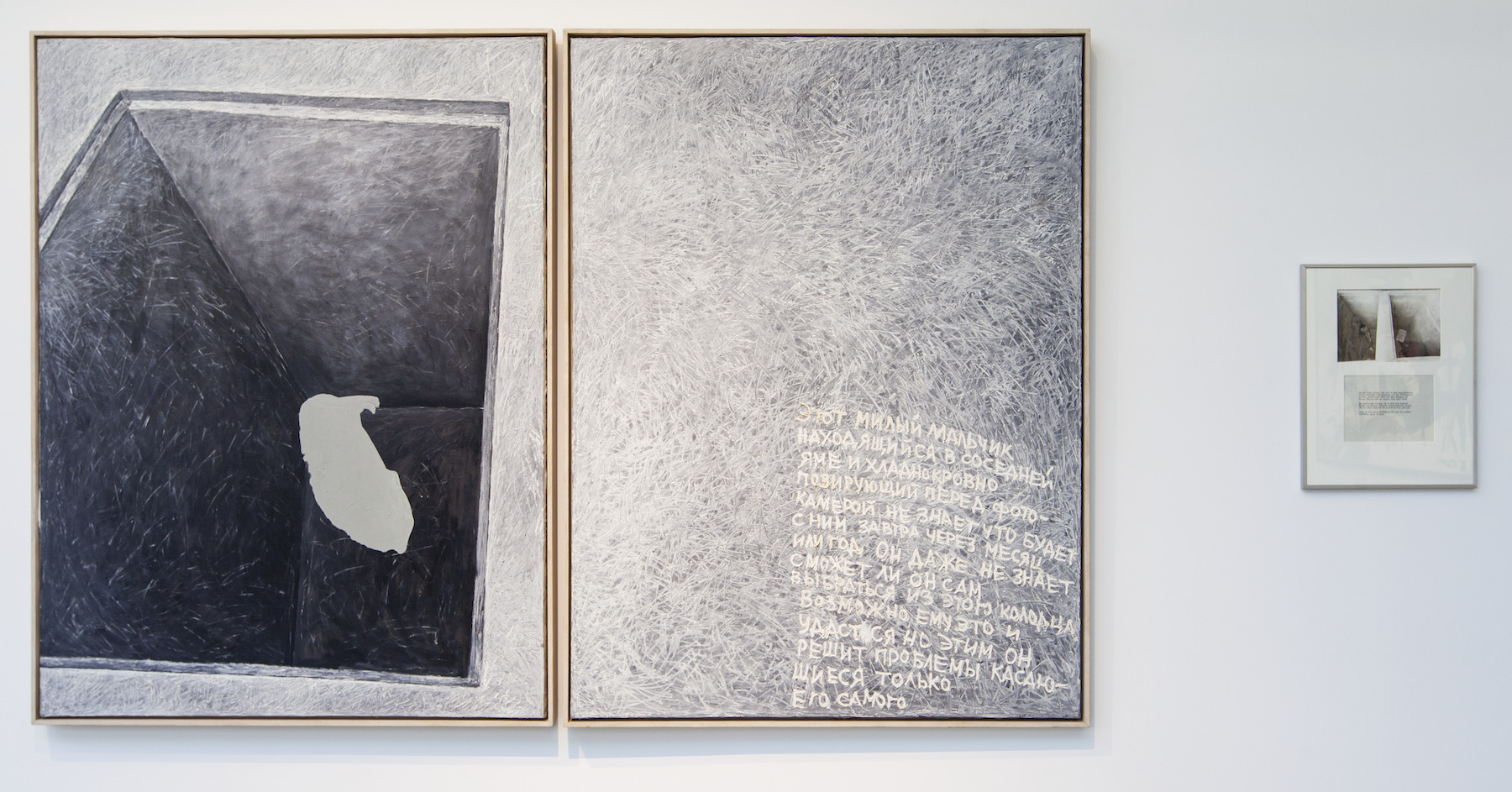 Vadim Zakharov
Колодец, 1982–1986