Thomas Lanigan-Schmidt
* 1948 in Elizabeth (NJ), USA
lives and works in Hell's Kitchen, New York City (NY), USA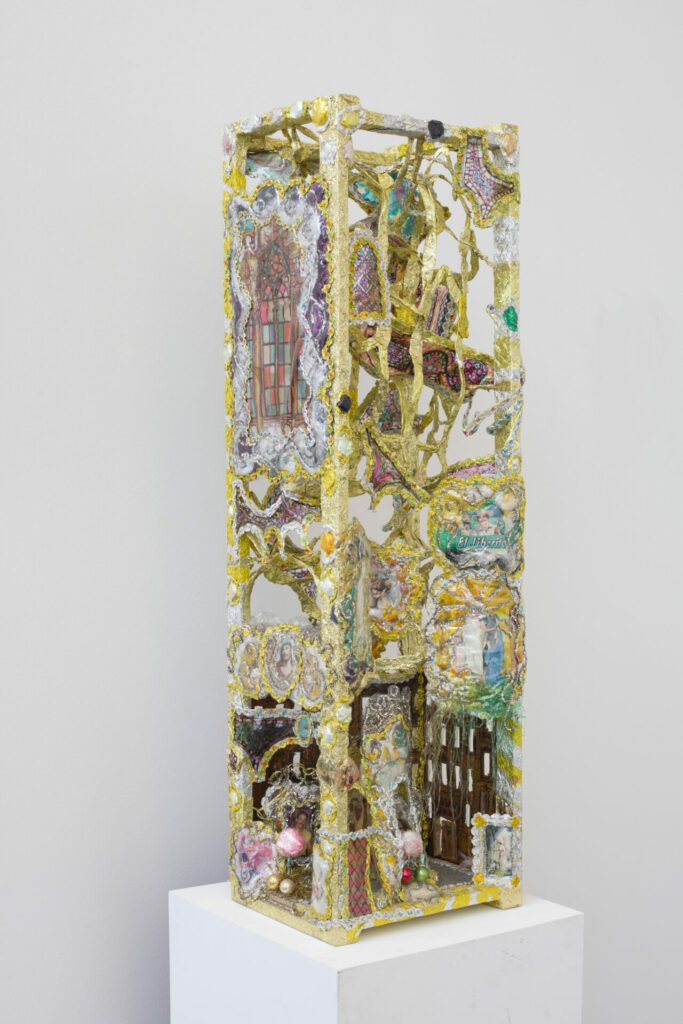 "They're like aquariums without walls", Thomas Lanigan-Schmidt said of his works in an interview on the occasion of his retrospective at New York's MoMA in 2013. Yet they are captivating in their opulence, which the artist achieves by combining different materials and themes. In A Rite of Passage: The Leprechaun (a Mischievous Irish Fairy) and the Puerto Rican Prince, he imitates the stained glass of church windows on a small scale with painted cellophane, which he then inserts into his stele-like collages, in which he repeatedly combines painterly and sculptural elements. But he also uses aluminum foil, tinsel, Christmas tree balls, and glittery collectible pictures. He collects these materials and saves them over many years until he finally uses them in a work. Lanigan-Schmidt combines household items with goods available at so-called dollar stores. He couples them to religious subjects as well as to gay identity, echoing critiques of Classism, that is, a stance that opposes discrimination based on social origin and economic position. In this way, he brings together high and pop culture and links them with autobiographical aspects, which lie, among other things, in his religion and homosexuality. At the same time, they do not mean opposing poles for him – rather, Lanigan-Schmidt tries to harmonize these facets of his identity.
For example, the artist had come out long before the Stonewall Uprising, which many now consider the beginning of the LGBTQIA++ movement, which led, among other things, to his rejection from an art academy. Allusions to his gay identity can be found in almost all of his work: For him, for example, the use of glitter serves as a symbol of this. For glitter, especially in the 1960s and 1970s, still consisted of ground glass and pieces of metal, which the street queens of New York applied. For Lanigan-Schmidt, the origin of glitter thus lies in this period and is thus linked to an experience of upheaval, a rite de passage, associated with the Stonewall Uprising and its aftermath. On the other hand, he associates aluminum and gold foil with the Christian faith, especially his time as an altar boy: flower pots that decorated the altar in his parish church were wrapped in these foils. The interaction of these differently coded artistic materials illustrates the attempt in Lanigan-Schmidt's work to establish and maintain the relationship between faith and homosexuality.
Particularly from the late 1960s onward, this mode of working becomes characteristic of Lanigan-Schmidt. At the same time, this aesthetic opposes what was happening in contemporary art, which was dominated by the reductive effects of Minimalism and Conceptualism. Often Lanigan-Schmidt's works are described as radically decorative, but this fails to recognize the multi-layered, non-exhaustive content dimension of the works.