Melike Kara
* 1985 in Bensberg, Germany
lives and works in Cologne, Germany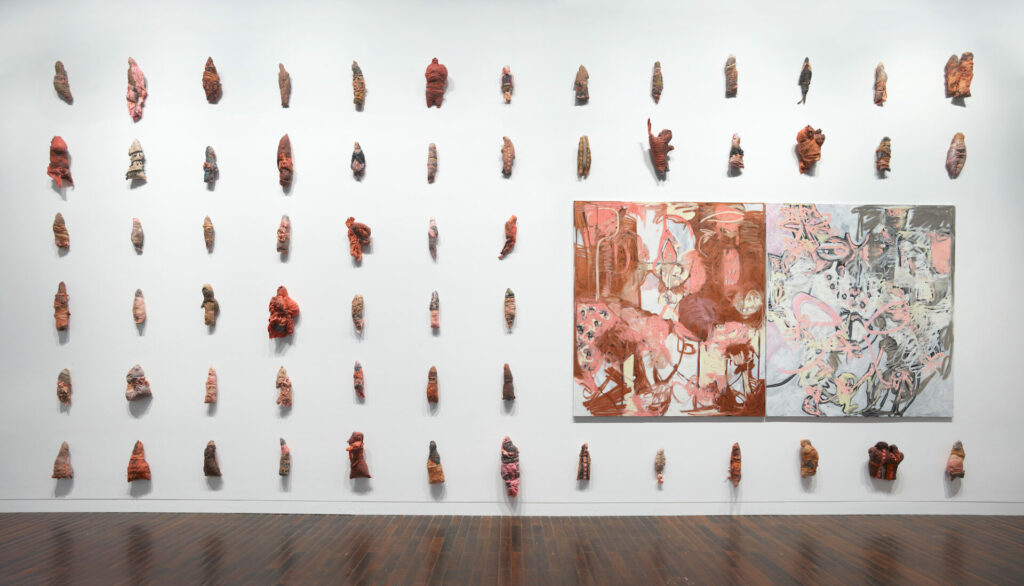 If culture is the source of collective knowledge, Melike Kara's work mother of mother is a tribute to the strength of the mother: knowledge and customs are often transmitted orally, especially in the family environment. Traditions and rites of one's own family are also passed on in this process. As a shaman in her native Kurdish village, Kara's great-grandfather took care of old traditions. Her grandmother kept these traditions alive after moving to Germany. For Melike Kara, her grandmother was always an important point of reference for her personal and artistic development. Therefore, the death of her grandmother was a drastic experience that led the artist to deal even more intensively with her own family history and the customs of her family.
mother of mother of mother indirectly refers to this upheaval experience, but focuses on the close exchange the artist maintained with her grandmother and the constancy with which she devoted herself to the physical, but also spiritual healing of people in her circle. In these gestures lies for the artist an important aspect of forgiveness, in which the past as well as the future are taken into account. The reference to this can be found in the 60 votive dolls Kara installed for the exhibition. The dolls, covered in reddish latex, radiate vulnerability but also joie de vivre. The patterned fabrics from which they were sewn come from their grandmother's discarded clothes and thus also represent a direct reference to the artist's mother. The figures thus become ambivalent beings that on the one hand bear witness to the tragic loss of a loved one, but on the other embody symbols of ongoing healing.
The ornamentation of the fabric is also found in the two paintings of the installation. Abstract floral patterns alternate with interlaced shamanistic symbols. Kara condenses her past, present and future into a continuum of simultaneity in which the living family members draw strength and knowledge from their memories and the experiences of their ancestors.
mother of mother of mother enters into a dialogue with a work by Twins Seven Seven from the Ludwig Collection, in which the artist addresses Yoruba rituals that follow a similar cult of ancestors and also transports this theme through textile ornamentation and gestures.