María Magdalena Campos-Pons
* 1959 in La Vega (Matanzas), Cuba
lives and works in Nashville (TN), USA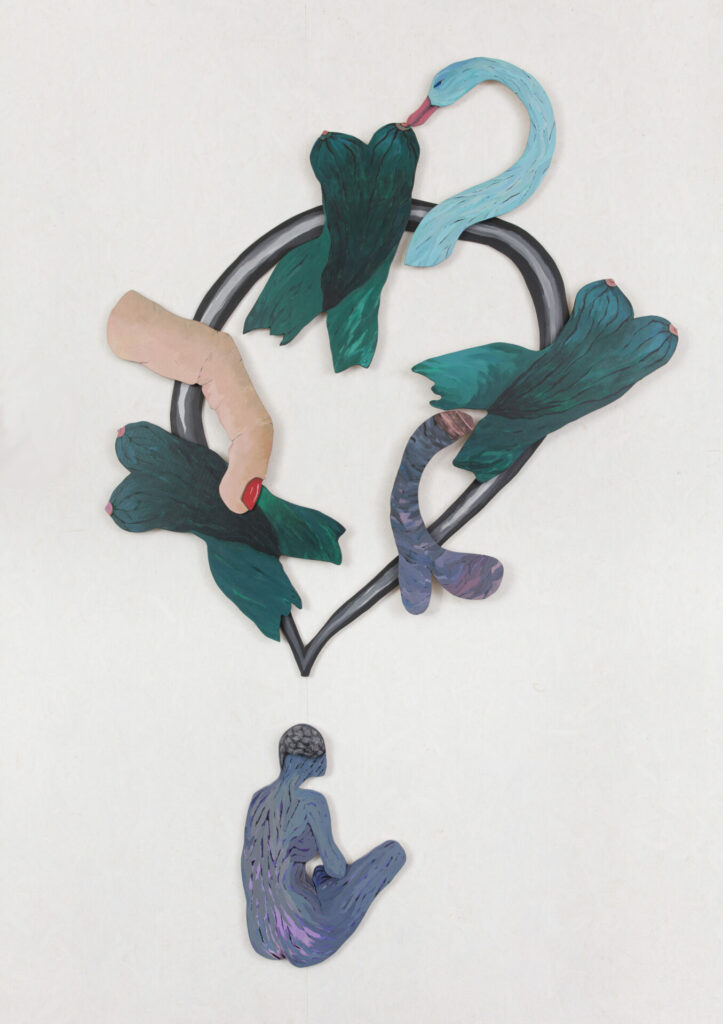 In her artistic practice, María Magdalena Campos-Pons deals with historical issues and links them to contemporary themes, such as Race, Gender and feminism, and the factors that influence the formation of identity. By drawing on historical narratives and mythological material, she aims to immerse contemporary viewers in themes. At the time of the work's creation, Alternatives for Myth: Leda Thinks, Campos-Pons was one of the most famous representatives of New Cuban Art.
With her relief, the artist refers to one of the most popular motifs of pictorial art, which comes from Greek mythology: Leda with the swan. In the Metamorphoses of Ovid it says that Leda, the wife of the Spartan king Tyndareos, one day took a bath in the river Eurotas. She is said to have been observed by Zeus, the father of the gods. He immediately desired her. In order to get hold of Leda, Zeus devised a ruse by transforming himself into a beautiful swan. Landing in her womb, he raped and impregnated Leda. Looking at the depictions of this myth since antiquity and the Renaissance, respectively, with the most famous examples by Michelangelo (c. 1530) and Leonardo da Vinci (1503-1505), both of which are now considered lost but nevertheless became crucial starting points for subsequent depictions by other mostly male artists, it becomes clear that the rape was usually conceived as a seduction scene showing an intimate entwining of Leda with the swan. This has had a significant influence on its reception for centuries: usually the rape of Leda is not only glossed over as an aestheticized version of the myth, but is furthermore understood as a consensual romantic approach and eroticizing motif.
María Magdalena Campos-Pons, however, already sets a clear sign with the title Alternatives for the Myth: Leda Thinks: From passive object of desire, Leda becomes an actively thinking subject. It remains unclear whether these reflections, which are represented by an implied comic-like thought bubble, take place before or after the event. It remains to be said, however, that Leda reflects on the situation here as a seated supine figure and conceives alternatives to her fate. In the process, three proposals are made more concrete, which are played out on the basis of three almost identically designed female torsos.
On the left, an oversized finger with red nail polish is pointed at a torso, suggesting masturbation or female homosexuality. Opposite this depiction on the right, a penis is attached to the torso, which can be understood as a sexual act between a man and a woman, whether consensual or not. The upper edge of the thought bubble is completed by a swan neck, whose head is directed towards the chest of the torso, with which Campos-Pons refers to the myth described. In the relief, the artist deals decidedly with female sexuality, sexualized violence and related issues. She is also concerned with making visible the centuries-long sexual repression of women and depicting a first step in the process of self-empowerment. The myth about Leda may be just a story. But it is necessary to keep in mind who is telling this story and who is portraying it in which context and with which intention.